This Wednesday, March 21st, at 18:00 is the opening of an exhibition in Tbilisi, Georgia of artist Giorgi Ugulava.

Location:
Georgian National Museum Tbilisi History Museum
Address: sioni str. 8 (Karvasla building)

This is a link to the show in Georgian:
museum.ge/index.php?lang_id=GEO&sec_id=70&info_id=14801


I wrote the exhibition narrative. See below.
​
Gray Zone
​Giorgi Ugulava

The title of this exhibition is "Gray Zone," and it is about the space or "zone" of corruption in contemporary culture. A "zone" can refer to a region, to a sphere, a sector or a territory. A zone can be both literal and metaphorical. And a gray zone is neither black nor white. It is a space without defined rules. Thus, Giorgi Ugulava's 11 canvasses depict these gray zones of corruption in different stories about its shadowy reality and rampant spread throughout our contemporary world. And a gray zone here is a reference to corruption and how we all live in this literal and metaphorical gray zone of lawlessness and corruption which is like a virus. It is everywhere. We don't always see it, but we often see the symptoms of it. It not only runs through the daily activities of powerful governments and large institutions that control so much of the way that we see our world, but also part of the life of the everyday citizen. Everybody is part of it, corruption can be anywhere. And although Ugulava's paintings depict contemporary scenes of corruption— clandestine meetings at warehouses and abandoned factories—makeshift shacks where victims are tortured—mass graves covered with cement to hide the crimes—and with the military and police scattered throughout in their various supporting roles—very few of his works have identifiable cultural or national markers. He prefers this ambiguity. And in his paintings human figures are often absent, but instead he shows us the symbols of their corruption—weapons, military vehicles, private jets. All of these are easily identified by us as tools that aid the agents of exploitation, vice and degeneracy and that feed off and have great influence over the everyday citizen. In his paintings, we see that something is happening, but it's not exactly clear what. His work emphasizes that we know that corruption varies from country to country, institution to institution, citizen to citizen, and it exists at all levels and strata of society everywhere: government, military, the church, police, the everyday worker and citizen. Yet he is not interested in why there is corruption. Rather, he is asking people to reflect on their own selfserving involvement in corruption, but also reminding us that corruption occurs but we can do nothing to stop it. In this way, his subject matter potentially connects to everyone because it cuts across a number of potential barriers that viewers of his painting might face, such as language and culture. And in its sometimes subtle, always unsettling depictions of corruption, his work allows the viewer to use his or her creative imagination to act as a co-creator in the formation of these narratives that they see before them.
Powered by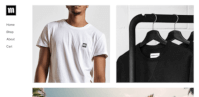 Create your own unique website with customizable templates.